Custom Home Builder Amarillo


N&B Homes Floor Plans

These days your home is whatever fits you. Because if it fits you, it fits us. Upgrade as much as you want.
We take the best of what was and add more of what can be. You're gonna love your new home.
BY N&B Homes Staff |
N&B Homes is more than a custom home builder in Amarillo, Texas. Our production homes are unique and customized to your design specifications. We are an experienced team of licensed and insured home builders with the expertise you need to build an exceptional, quality-built home. Building more than 1,600 new homes in Amarillo, Texas, we know a thing or two about building great West Texas homes.
New Construction Homes in Amarillo and Canyon
If you are looking for new construction homes in Amarillo and Canyon, then look no further. Among Amarillo builders N&B Homes stand apart from the rest. Our trademarked building systems allow us to build a lot of house for the money.
Design is the most crucial step. Because the kitchen is the heart of a home, we start there and build a house around it. We have more than 40 modern floor plans to choose from with standard features you would expect from a custom home builder in Amarillo. Robbie Christie, owner of N&B Homes, works directly with the homeowner to develop the overall building plan and stays with the project every step of the way.
New Houses for Sale in Amarillo TX
N&B Homes has available lots in many different Amarillo communities such as City View, Heritage Hills, Time Square Village, and Tradewinds Square. In addition, if affordable country living is what you're looking for, we also build new homes in Canyon East and Hunter Estates in Canyon, Texas. We take great pride in each of the communities we build in. Each one is promotes the best possible family-friendly lifestyles you have come to expect in Amarillo.
Prices From the mid $140s (excluding lots)
Whether you are in the market for your first home or a bigger custom home in Amarillo or Canyon, N&B Homes offers the perfect home building experience. We give you everything you need to build an amazing home. We give you a house you'll love, the flexibility you need, plans you help design, your home — perfected. Choose N&B Homes where the difference is you.
---
N&B Homes Floor Plans
Square Footage and Starting Prices (Excluding Lot Price)
With more than 40 floor plans to choose from, N&B Homes has everything from relatively small, economical homes that meet the needs of young people buying their first home as well as empty nesters looking to downsize in pursuit of a simpler lifestyle to larger, upscale homes that fit the demands of young families as well as mobile professionals looking for a more comfortable standard of living. Each floor plan comes stacked with a lot of standard features that you would typically find in a custom-built home. And many upgrades are available. There are plenty of floor plans to choose from. Starting prices exclude lot cost.
Instructions
Purchasing a new home from N&B Homes isn't a difficult process. The starting price for your home includes a list of Standard Features and Optional Upgrades. The lot price is not included in the starting price. If you don't see what you want in the Standard Feature list, you can tweak it. Once you have made all your choices, we will determine the completion date for your home. We will not begin the building process until you have completed all your choices.
Changes in Plans and Specifications
Continuing a policy for constant improvements, N&B Homes reserves the right to make changes in the plans and specifications, and to substitute material of similar quality without notice or prior obligation. Packages on homes constructed prior to this printing may have different features. Standard Features may change without notice.
Construction Package

Dirt Pad - Compacted & Tested
STANDARD
Foundation - 12" x 24" footings (incl. porches & patios)
STANDARD
Slab - Compacted sand w/ rebar
STANDARD
Framing - Walls - 2x4's on 16" centers
STANDARD
Roof - 30 year shingles w/ upgraded underlayment
STANDARD

Exterior Design Package

6/12 Roof Pitch
STANDARD
2 car garage - 21 x 22
STANDARD
Front Door - Fiberglass w/ small glass insert
STANDARD
Windows - Low E, Double pane, argon filled
STANDARD
Windows - Front - Wood Smart siding shutters
STANDARD
Soffit and Fascia - Wood Smart siding
STANDARD
Covered rear patio w/ Brick column
STANDARD
6' Wood picket fence w/ steel posts & 2 - 3' gates
STANDARD
Sprinkler & Sod (front/back) Lot sizes up to 65' x 110' - City only. Country lots is not included
STANDARD
Flower bed cut outs w/ soaker hoses
STANDARD

Interior Design Package

Kitchen w/ custom Knotty Alder cabinets
STANDARD
Hardware and Lighting - Silver
STANDARD
Plumbing Faucets - Chrome
STANDARD
Painted Trim - Pine - 5" baseboards, 3" door casing
STANDARD
Painted Trim - Pine - Crown (n/a Bath/Utility)
STANDARD
Texture - Sprayed - All Walls and Ceilings
STANDARD
Attic Access ladder
STANDARD
Square windows trimmed in wood. Arch trimmed in sheetrock
STANDARD
Pediments in main part of house
STANDARD

Flooring Package

Ceramic tile - Kitchen, Dining, Baths, & Utility
STANDARD
Carpet - Livingroom, Halls, & Bedrooms - 1/2" Pad
STANDARD

Kitchen Design Package

Custom Knotty Alder cabinets w/ silver pulls
STANDARD
Granite Countertops w/ 4" Stone Backsplash - 1 row
STANDARD
Undermount Kitchen sink
STANDARD
Stainless Steel Appliances - Range, Dishwasher, Microwave
STANDARD
Plumbing Faucets - Chrome
STANDARD

Bath Design Package

Double Vanity sinks in Master bath
STANDARD
Undermount Sinks
STANDARD
Plumbing Faucets - Chrome
STANDARD
Granite Countertops w/ 4" Stone Backsplash - 1 row
STANDARD
Ceramic tile - Floors and Walls (around Tub/Showers)
STANDARD
Recessed Can Lights over Tub/Showers
STANDARD
Knotty Alder Cabinet Above all Toilets
STANDARD

Utility Design Package

Ceramic Tile - Floors
STANDARD
Knotty Alder Cabinet w/ Closet Rod over Washer/Dryer
STANDARD

Natural Gas Package

Check Availabillity
STANDARD

Lighting and Electric Package

Silver Lighting Fixtures
STANDARD
Fixtures in Baths, Garage, Utility, Master closet
STANDARD
52" Ceiling Fan w/ Light Kit in Livingroom
STANDARD
Small Ceiling Fan w/ Light Kit in Bedrooms
STANDARD
Recessed Lights in Dining, Kitchen, Over tub/shower, Porch/Patio
STANDARD
Recessed Lights in Livingroom & Den (If Equipped)
STANDARD
LED Under Cabinet Lighting in Kitchen
STANDARD
Exterior Accent Eve Lights
STANDARD
Christmas outlets w/ switch (2 plugs in eaves)
STANDARD

Energy Package

Spray Foam walls and attic
STANDARD
HVAC Systems - Heat Pump Units
STANDARD

Tidbits

25 Years Building in Amarillo
STANDARD
Top Resale Value - According to Amarillo Realtors
STANDARD
Accredited with the BBB
STANDARD
Many Options and Upgrades to choose from
STANDARD
Standard Features and Materials can change without notice
STANDARD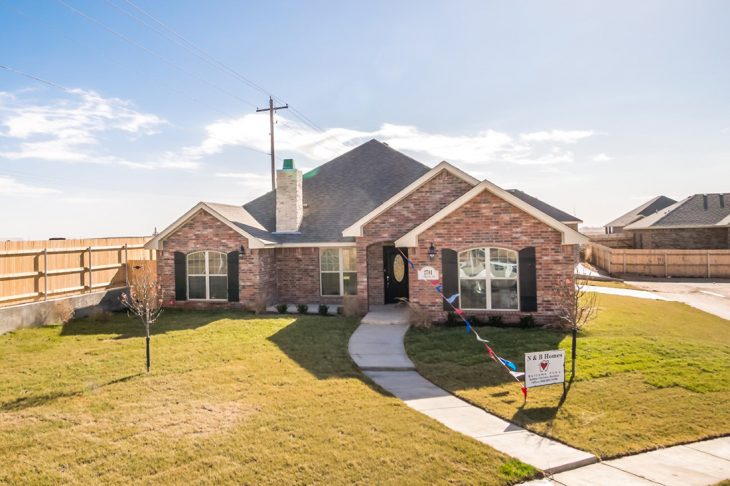 Aspen Floor Plan: Front Elevation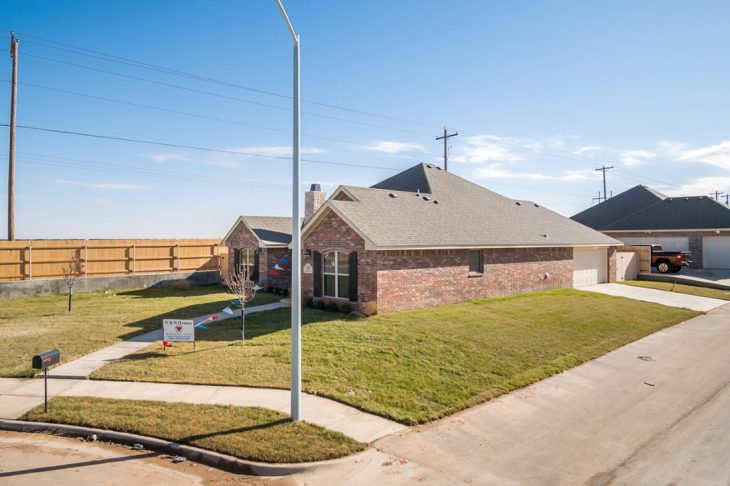 Aspen Floor Plan: Side Elevation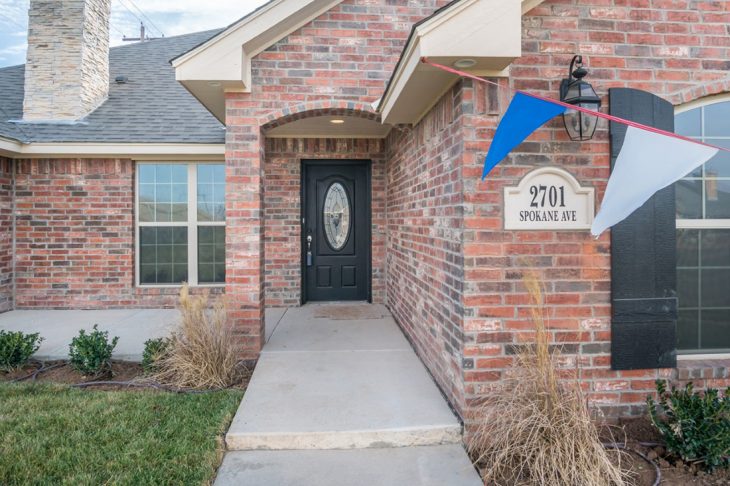 Aspen Floor Plan: Entrance